Turkey: Local newspaper's front page recipe protest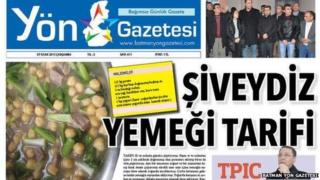 A local newspaper in Turkey has started filling its front page with recipes as a protest against what it describes as limits on press freedom, it's reported.
The Yon Gazetesi paper, published in the southeastern province of Batman, has been subject to almost 40 lawsuits since it was set up in September 2013, the Hurriyet Daily News website reports. Staff have responded by replacing local news headlines with instructions for making Turkish dishes. There's a satirical tone to the choices though, with one recipe for a sherbet snack known as a "deputy's finger", and another for a "mayor kebab".
The paper has often published stories which have been critical of local officials, but the editor-in-chief stands by the paper's content. "Since starting publication, to this day, we haven't done a single news story which wasn't backed by documents," Ferit Tunc is quoted as saying on the Milliyet news website. "But almost immediately all of our stories have prompted people to put pressure on us." He says readers have stuck by the newspaper despite the change in content, and their small circulation of 500 copies remains intact, adding: "We will continue our protest until there is a free local media."
Use #NewsfromElsewhere to stay up-to-date with our reports via Twitter.