India: Hindus turn to internet for 'mail order prayers'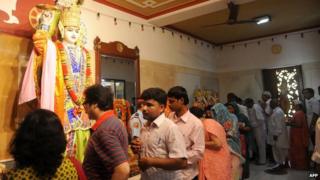 Hindus across India are going online to avoid long pilgrimages to the temple, it's been reported.
A number of religious websites now offer online blessings and "prayers by proxy", the Hindustan Times reports. Hindu devotees can order a puja, or prayer ritual, to celebrate a significant life event, or to seek help with issues ranging from infertility to finding a job. Users provide a few personal details, select the temple of their choice and make an online payment. In return they receive a parcel containing everything they need to carry out a puja from the comfort of home, including a prayer DVD, dried flowers and sandalwood.
The cost starts at about 500 rupees ($8; £5) but can cost more than 2,000 rupees, depending on the popularity of the temple. The mail order idea was initially aimed at Indians living abroad, but it's since seen a rise in popularity among local residents, the paper reports. Modern life means people don't always have time to make long trips to the temple, according to Shivakumar, the founder of one such website. "People today are either too distant or too busy to take the journey, which is where we help them," he says.
Use #NewsfromElsewhere to stay up-to-date with our reports via Twitter.