South Korea: Military mulls 'less masculine' songs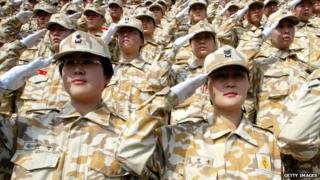 South Korean military songs are likely to be less male-oriented in the future, it's reported.
The armed forces have been considering how to deal with frequent references to men in their songs because of a growing number of female recruits, the Korea Times reports. Current songs - including one of the military's most famous tunes, Real Men - were penned in a different era when the sexes were less equal, a military spokesman says. But with about 10,000 female recruits now singing along, things may need to change. While existing songs will remain untouched, it seems new compositions will get a gender-neutral treatment. "The military has conducted surveys on its own, which showed that few female soldiers have antipathy to the existing songs," says spokesman Kim Min-seok. "Therefore, authorities decided to leave existing songs as they are, but exclude problematic words from those created from now on."
The government is seeking to increase the number of women serving in the armed forces, but rights groups say harassment is still a problem for female recruits. A National Human Rights Commission study in 2013 found that more than one in 10 female soldiers had reported a sexual assault while at work during the previous year.
Use #NewsfromElsewhere to stay up-to-date with our reports via Twitter.