China: Woman advertises for 'daughter' to be heiress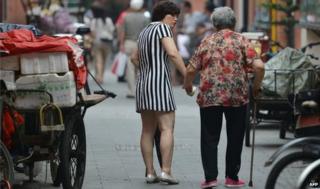 A Chinese woman has advertised for an adult "daughter" to keep her company and maybe even inherit her wealth, it's been reported.
The advert - posted near a job centre in the city of Zhengzhou, in eastern Henan Province - looks for a "kind-hearted" woman under the age of 40, "who could inherit my wealth if we get along", the Shangdu.com news website reports. The writer describes herself as a 68-year-old doctor who owns a clinic and four houses, but has no children. She is identified by the website as Liu Guiling, whose husband is paralysed and bedridden. Mrs Liu tells the site she wants someone to visit her just like a real daughter would, and whoever makes the grade could inherit two houses and her clinic.
The story has been met with sadness on Chinese social media. "Being an old lady is tough, being a doctor is also tough," says one user on the Beijing Times Weibo page. "People only want a little bit of love - please do not be mean to her!" But several users aren't convinced that the advert is a good idea, with one saying: "How can a stranger really love you like your own child, do you know what filial piety is?" Others are busy making a pitch for the role, with one man asking: "Would you take a son?"
Use #NewsfromElsewhere to stay up-to-date with our reports via Twitter.