Saudis complain about street car washes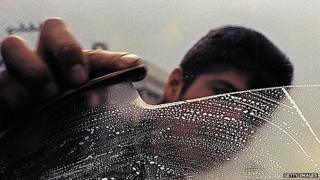 Residents of the Saudi city of Jeddah are complaining about street-corner car washes, which they say are damaging roads and harassing drivers.
The Council only grants permission to car washes with a regulated water supply, out of the way of traffic and residential areas, but illegal washers can be found outside shopping centres, markets and even government buildings, getting water where they can and charging knockdown rates of 15 riyals ($4;£2.60) or less, Arab News reports.
Locals have many gripes about the car washers, and often make a point of noting that they are largely guest workers from South Asia and South-East Asia. Complaints range from heavy use of water and detergent, which one resident says is "eroding asphalt and leaving polluted puddles", to accusations that they steal water from public supplies. One driver says they pursue their victims right up to the doors of shopping malls, sometimes even offering their phone numbers in order to wash cars at home.
Council officials acknowledge there is a problem. Spokesman Muhammad Al-Bugami says lack of any official presence has allowed fly-by-night car washes to "ruin parts of some neighbourhoods", with Prince Miteb Market and Al-Jamia district badly affected. But Mansour Al-Zahrani did not let local drivers off the hook, either. "The main reason this phenomenon keeps growing is that Jeddah residents use these rogue car washes to save time and money".
Use #NewsfromElsewhere to stay up-to-date with our reports via Twitter.