Egypt: Season tickets offered for security tip-offs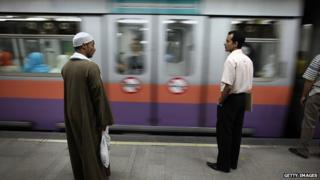 Egyptians who report suspicious behaviour on public transport will be rewarded with season tickets, it seems.
The Ministry of Transport has announced it will give away the tickets to anyone who tips-off the police about suspicious behaviour or spots a strange object in public. The incentive is being offered in order to highlight that "security is everyone's responsibility not just the army and the police", a ministry spokesman says. Telephone hotlines have been set up, and X-ray machines and security cameras have been installed at stations to help monitor the transport system, al-Masry al-Youm reports. The ministry's announcement comes days after a series of attacks on military targets in the Sinai Peninsula, and was followed by news that two bombs had been found at Cairo airport.
Some Egyptians commenting on social media are divided on what effect the scheme might have. Some predict that people could make fake reports to the police, in order to claim the free tickets. But while one user describes it as "a nice idea", another thinks people shouldn't need an incentive: "A person's motivation is their nation, self, money and dignity. Not a ticket!"
Use #NewsfromElsewhere to stay up-to-date with our reports via Twitter.