Iraq: 'Bidders vie' for Saddam Hussein execution rope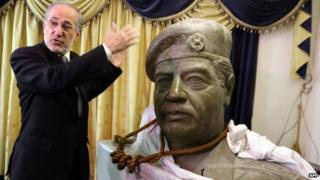 The rope used to execute former Iraqi President Saddam Hussein has attracted numerous bids from people who want to own it, it's been reported.
Bidders from Iran, Israel and Kuwait are said to be vying to get their hands on the grisly memento, according to the London-based Al-Araby Al-Jadeed website. It's currently held by Mowaffak al-Rubaie, Iraq's ex-national security advisor. In 2013, he was photographed with the rope on display in his living room, slung around the neck of a bronze statue of the former president. That prompted a flurry of interest in the rope, a senior Iraqi politician tells the website. He says among those bidding are two Kuwaiti businessmen, an Iranian religious organisation and a wealthy Israeli family, and that an offer of $7m (£4.6m) has been made. Mr al-Rubaie has not commented on the report.
Human rights activists have criticised the alleged bids, and activist Ahmed Saeed tells the website that if a sale does happen the money should go to the Iraqi treasury as public funds. In April 2013, Mr al-Rubaie told The Independent he was keeping the statue and rope until a museum was made to house the relics of the former regime. "I had my men bring me back a segment of the rope after they cut Saddam down," he said. "I thought it appropriate to put it around the neck of Saddam's statue."
Use #NewsfromElsewhere to stay up-to-date with our reports via Twitter.