Canada: Army 'lost' GPS-guided shells in Afghanistan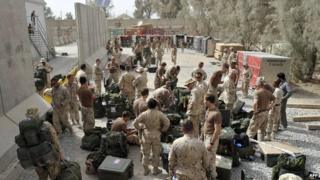 Canada's army couldn't find three of its precision-guided artillery shells when troops pulled out of Afghanistan in 2011, it's reported.
The shells, known as Excalibur rounds, were worth more than US$175,000 (£115,000) each, according to records obtained by The Canadian Press agency, and published in the National Post. Touted as high-precision weaponry, the shells are said to be accurate within 20m of a target when fired from up to 40km (25 miles) away. Documents show that the GPS-guided explosives couldn't be accounted for when Canadian forces left their base in Kandahar, and nearly two years of investigation resulted in armed forces officials asking for the cost of the ammunition to be written off, which was subsequently approved.
More than three years on, their whereabouts are still unknown, the agency says. A briefing to Canada's joint operations commander in July 2014 said theft was "highly unlikely" because of the sheer size and weight of the shells - each one is 1m (3ft 3in) long and weighs 48kg (106lb). There were also problems with notifying authorities of the loss. It should have been reported within 48 hours, but the army waited 15 months because officials thought it was just a paperwork error.
Use #NewsfromElsewhere to stay up-to-date with our reports via Twitter.