Italy: Ryanair sorry for Palermo 'mafia gaffe'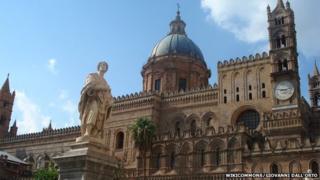 Ryanair has been forced to change its description of Palermo after protests from local officials, it's reported.
On its website, the low-cost airline described Sicily's capital as a "forgotten treasure", but city officials objected to what followed: "Dominated for many years by the mafia and poverty, the city has reclaimed a place among European cultural cities". That description provoked complaints from a council member and the boss of the city's airport, which the Irish carrier uses for its flights, La Repubblica newspaper reports. In an apology, Ryanair says the content was provided by a third party. "This detail escaped an internal check," says marketing manager Giuseppe Belladone, adding that the description "obviously" doesn't reflect the airline's thoughts about the city.
Its website now describes Palermo as "intoxicating, lively and energetic", but one local blog didn't see the problem with the original content. "Where is the mistake?" asks the Live Palermo website. It notes that Ryanair made a clear distinction between the past and present, and says the city "cannot erase" its history. Palermo suffered years of Cosa Nostra violence in the 1980s and early 1990s; its Falcone-Borsellino airport is named after two anti-mafia judges murdered in separate bombings in 1992. But since then, grassroots anti-racket organisations have helped foster public resistance to the pizzo - or extortion money - and crackdowns by law enforcement have seen many high-profile mafia arrests.
Use #NewsfromElsewhere to stay up-to-date with our reports via Twitter.