Canada: Cabinet told they must tweet bilingually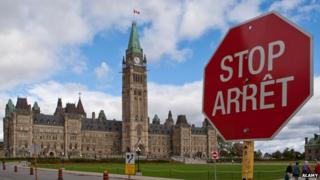 Canada's most senior politicians have been told they must tweet in both French and English in future, it's reported.
An investigation by the country's commissioner of official languages found that tweets by former Foreign Minister John Baird and Public Security Minister Steven Blaney fell foul of the law because they were mainly in English, The Canadian Press news agency reports. The commissioner's office says when ministers are communicating with the public in an official capacity they have to use both of Canada's official languages - and that includes on social media. It found that over the course of two months, 181 out of 202 of Mr Baird's tweets were only in English. When the investigation was announced in August 2014, Mr Baird's then-spokesman said the Twitter account was personal and therefore "falls outside the scope" of federal language laws.
Canada's federal institutions have been bilingual since 1969 when the Official Languages Act was passed, recognising English and French as having equal status. It means that Canadian citizens have to be able to access federal government services in both languages. According to the 2011 census, about 30% of the population can speak French, with more than seven million Canadians describing it as their mother tongue.
Use #NewsfromElsewhere to stay up-to-date with our reports via Twitter.