North Korea: Ice festival honours Kim Jong-il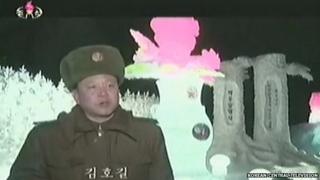 North Korea has unveiled an ice sculpture festival to honour the 73rd birthday of its former leader Kim Jong-il.
State-run Korean Central Television aired special programmes after the main evening news over two days showing the ice park on the slopes of Mount Paektu, the active volcano said to be the ancestral cradle of the Korean people, and the reputed birthplace of Kim Jong-il, who lead North Korea until his death in 2011. The programme shows a number of Kim-inspired ice sculptures built by the Art Studio of the Korean People's Army, including assault rifles, patrol boats and a missile launcher, as well as copies of revolutionary monuments in the capital Pyongyang. There's also a large Kimjongilia - a red begonia hybrid named after the "Dear Leader" - fashioned in ice.
Pride of place, however, goes to a replica of the hut on Mount Paektu in which Kim was reputedly born - although historians outside the country say he was actually born in Russia. Surrounded by icy trees, and crowned with the former leader's smiling official portrait, the TV specials showed ranks of army officers reverentially bowing toward the replica.
The real hut on the North Korean-Chinese border is a place of pilgrimage for the country's citizens, and according to the state narrative of the "revolutionary spirit of Mount Paektu", the country's founder Kim Il-Sung organized guerrilla resistance from the densely-wooded slopes. Many trees on the Korean side are carved with slogans, and the Paektusan camp is an almost daily theme in the country's propaganda.
State news agency KCNA said that some sculptures had been carved from a six-tonne block of ice in the capital, allowing residents to experience "the freshness of the holy land of the sun where Jong-il Peak stands".
Use #NewsfromElsewhere to stay up-to-date with our reports via Twitter.