Russia: Inmates build life-size military snow sculptures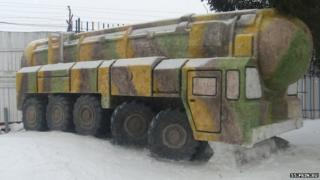 Inmates at a prison in Siberia have been keeping busy by building huge replicas of Russian military equipment entirely out of snow.
The sculptures were made at a prison in the Omsk region as part of a competition to mark Defenders of the Fatherland day - a public holiday in Russia, the state-owned Rossiyskaya Gazeta reports. In a unanimous decision, first place was awarded to a full-size model of a Topol-M intercontinental ballistic missile launcher, painted in camouflage colours. The sculpture was praised for its intricate details, including built-in lights, a statement from the federal penitentiary service says. Second place went to a frozen replica of a Soviet T-34 tank.
The prison says the contest "contributes to morale" and makes inmates "familiar with independent creative work", adding that the winners will be rewarded with special privileges. It can also benefit the prisoners' psychological well-being, while the teamwork element encourages law-abiding behaviour, according to Igor Moiseyev, head of the facility's psychological department. It's the second snow sculpture contest at the prison in recent weeks; inmates made festive creations over the Christmas and New Year period, including Santa in a full-size sleigh.
Use #NewsfromElsewhere to stay up-to-date with our reports via Twitter.