Italy: Fishermen want state of emergency over IS threats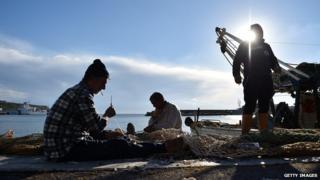 Fishermen in southern Italy want the government to declare a state of emergency over recent threats made by Islamic State (IS), it's reported.
The fishermen are concerned about encountering IS militants - as well as people traffickers - while working in the sea off Linosa and Lampedusa, Italy's southernmost islands, the Ansa news agency reports. "It may seem strange to you, but we are truly worried for ourselves and our families," writes Toto Martello, head of the local fishing consortium, in a letter to Prime Minister Matteo Renzi. Government warnings about the spread of IS militants in Libya, a relatively short distance from the islands, mean workers are "frightened of being boarded by terrorists", Mr Martello says. "One can't live with the nightmare of not going home."
The letter is in stark contrast to recent social media reaction to militants' threats. Earlier this month, IS-affiliated Twitter accounts warned that the group had its sights on Rome, using the hashtag #We_Are_Coming_O_Rome. But Italians responded with irony, tweeting suggestions on where to eat and how to avoid the city's traffic jams. "#We_Are_Coming_O_Rome hey just a tip: don't come in train, it's every time late!" tweeted one user. The jokes were perhaps lost on those working in the seas off Lampedusa. "We need to be protected and defended," Mr Martello says. "But to work we also need to be calm in a Mediterranean that is increasingly becoming the world's powder keg."
Use #NewsfromElsewhere to stay up-to-date with our reports via Twitter.