Turkey: Candidates don Ottoman-themed outfits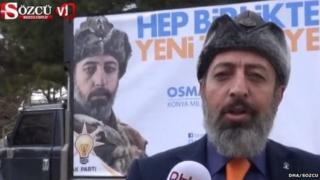 Potential candidates for the Turkish parliament are trying to win their party's nomination by wearing Ottoman-style outfits, it seems.
Several members of the ruling Justice and Development Party (AKP) have unveiled campaign posters in which they pose in historical attire, the Hurriyet Daily News reports. Some candidates appeared to be dressed as Ottoman sultans, with one wearing an elaborately embroidered tunic and matching bejewelled headpiece. Another, Osman Yavuz, who's seeking the party's nomination in the province of Konya, chose to wear a fur-trimmed hat known as a bork, popular in the 14th Century, the paper notes. The pre-nomination campaign is designed to showcase a candidate's suitability for parliament and their popularity with the public, Today's Zaman reports.
Perhaps inevitably, the images have gone viral on social media. A presenter on CNN Turk, Nevsin Mengu, tweeted a photo of Mr Yavuz and said: "This election is really retro, my sweet!" Most users have mocked the candidates, with several pointing out that they resembled characters from historical soap operas. But one person suggests that as Mr Yavuz shares a first name with several of the Ottoman Empire's sultans, the choice of attire was perfectly natural.
Use #NewsfromElsewhere to stay up-to-date with our reports via Twitter.