Russia: Caucasus city attracts 'busloads' for Fifty Shades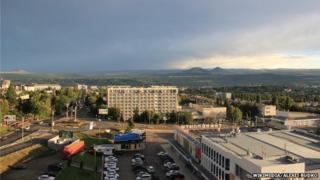 A widespread ban on screening Fifty Shades of Grey in Russia's North Caucasus is benefiting one city which decided to allow the film, it's reported.
Pyatigorsk in Stavropol Territory bucked the regional trend by allowing the erotic drama to be shown in its cinemas. Its neighbouring majority-Muslim republics announced a ban earlier this month, citing morality concerns over the film's sexual content. But that hasn't deterred intrepid fans, who are flocking to Pyatigorsk's cinemas to see the film, the Regnum news agency reports. Local cinemas say they're reaping the rewards of the ban, with one telling the agency that it had seen "panic buying" of tickets in the week after the film's release. The agency quotes a blogger from neighbouring Karachay-Cherkessia, where the racy drama isn't being shown, as saying "busloads of people" had been setting off for Pyatigorsk to see it.
Authorities in five of the seven North Caucasus republics banned the film "for moral and ethical reasons" shortly before its planned release date. At the time, Dagestan's youth minister, Zaur Kurbanov, implored people to boycott what he described as "this filth". But the decision angered many bloggers, with one sarcastically suggesting that all culture be banned: "All the films, books and music," Zaur Farniyev wrote. "Can you imagine how morally sound the people will become?"
Use #NewsfromElsewhere to stay up-to-date with our reports via Twitter.