New Zealand: Motorists take keys from bad drivers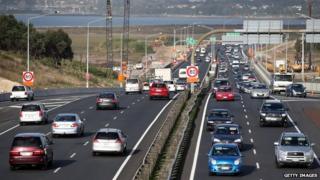 Motorists in New Zealand are taking matters into their own hands when they see dangerous driving, by flagging down vehicles and confiscating their keys.
Police are asking people to stop the practice, which is mainly directed at tourists who have allegedly broken the rules of the road, the New Zealand Herald reports. The country has seen a number of fatal crashes involving foreign drivers in recent months, causing anger amongst locals. The police want people to record any dangerous driving and then wait for them to arrive, but they say key confiscations can be used as a "last resort". "It's very much a case-by-case basis," Assistant Commissioner for Road Policing Dave Cliff tells the Stuff.nz website, adding that if somebody "witnesses behaviour that is absolutely outrageous" then there are legal protections which would allow a person to take action.
In February, a Chinese family on holiday in the country had their keys confiscated by another driver, after their car was spotted travelling on the wrong side of the carriageway. The keys were then posted through the door of a local police station. With their rental agreement revoked, the tourists ended up chartering a plane to continue their journey.
While a petition calling for tourists to take driving tests before being allowed to hire a car has garnered more than 36,000 signatures, the Automobile Association doesn't support the idea. A spokesman told parliament last month that "the vast majority of visitors drive safely while they're in New Zealand", and a test wouldn't make any difference.
Use #NewsfromElsewhere to stay up-to-date with our reports via Twitter.