Iceland: Paper published back to front in nod to history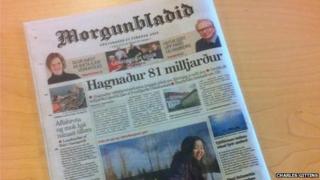 One of Iceland's main newspapers has published an issue back to front in honour of its audience's traditional reading habits.
Readers of the Morgunbladid daily found the paper's spine on the right-hand-side along with a note explaining the change, its English-language website reports. "The pa­per has been turned around, begin­ning on what is usu­ally the back page and end­ing on the usual front page," the note said. "This is in ho­n­our of those very many Morgun­bladid read­ers who read the news­pa­per from back to front for his­tor­i­cal rea­sons."
The paper, first published in 1913, used to put major international stories on its front page, and devoted its back page to domestic news, the website explains. This meant that readers who were more interested in Iceland's own affairs would often start reading from the back page. Even though Morgunbladid is no longer laid out that way, many readers haven't shaken the back-to-front habit. But anyone enjoying the new layout wasn't given much of a chance to get used to it - the backwards print run was a one-off, and the paper was back to normal the following day.
Use #NewsfromElsewhere to stay up-to-date with our reports via Twitter.