Finland: Elderly man defies age with downhill skiing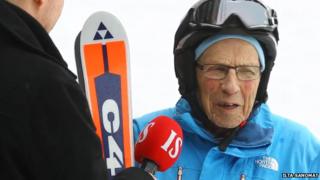 A Finnish man says he spends every weekend downhill skiing despite being 95 years old.
Nils-Olof Eklundh started skiing in 1937 and still hits the slopes at a centre near Helsinki for two hours every Saturday and Sunday, the Ilta-Sanomat news website reports. After descending the hill 10 times he stops for a coffee, then does it another 10 times, he tells the website. Mr Eklundh, who's known as Nisse, used to ski competitively decades ago but now it's not the only sport that occupies his time. As well as occasionally enjoying sailing, in winter he plays tennis three times a week with some friends in their 80s and a 60-year-old "youth".
In the past he's also taken to the slopes with his great-nephew - the Finnish Prime Minister Alexander Stubb. In February, Mr Stubb tweeted: "Visited my great uncle Nisse Eklundh on his 95th birthday, which he celebrated by go-karting on Saturday and skiing on Sunday! #ironman". But despite his active lifestyle, Mr Eklundh says he doesn't have any secrets for being healthy in later life, and instead puts his longevity down to good luck. "If anyone eats unhealthily, it's me," he says. "In my entire life, I haven't eaten anything green." Instead, he favours "lots of sugar and butter", and a hearty breakfast: "In the morning, always five slices of traditional sweet Finnish bread, and tea."
Use #NewsfromElsewhere to stay up-to-date with our reports via Twitter.