Italy: Football fans given free museum entry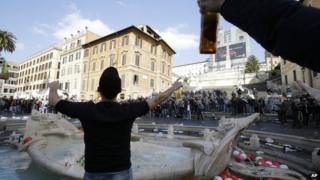 Football fans in Italy are being offered free museum entry in an effort to make them appreciate the culture of cities they visit.
The mayors of Rome and Florence say fans attending the Europa League ties between Roma and Fiorentina will be able to use their ticket to get into several city museums, the La Repubblica website reports. The two sides meet on Thursday in Florence, with the second leg in Rome on 19th March. The move comes weeks after visiting Feyenoord fans clashed with riot police in central Rome, causing damage to a 17th Century Baroque fountain in the city's famous Piazza di Spagna and leaving the area littered with broken beer bottles. At the time, Rome Mayor Ignazio Marino reacted with indignation, tweeting that the city was "devastated and hurt" by the scenes.
"After the terrible events of the past weeks, culminating with the violence and devastation in the city centre, we want to transform the next dates into something radically different," says a statement on Mr Marino's website. "A match can and should be preceded by an awareness of the beauty of the host city." Florence Mayor Dario Nardella has thanked a radio host for suggested the idea of linking culture with sport. "Culture can help to teach real values," he told Radio 24, adding that if fans are amazed by a city's heritage, "they'll also behave better when they go to cheer on their team."
Use #NewsfromElsewhere to stay up-to-date with our reports via Twitter.