Ukraine: TV to air new 'post-Maidan' drama series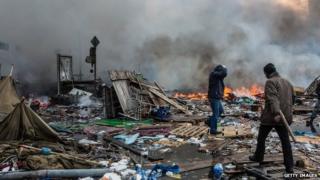 A Ukrainian television channel is trailing a gritty new drama about the aftermath of last year's Maidan revolution and the start of the war against Russian-backed separatists in the east.
The new series, called Hvardiya (The Guard), is "the story of the first volunteers who, after the bloody events on the Maidan in Kiev, answered the call to join the National Guard," according to the Espreso TV website. The programme follows characters who turn up at boot camp and "overcome their differences and sometimes conflicts to become true warriors", the website says. It's due to air on the independent 2+2 channel in the spring to mark the first anniversary of the National Guard, formed in the aftermath of the uprising in Kiev's central Maidan Square in 2014.
The producers of the series have just released a trailer, and emphasise that it's an all-Ukrainian affair, in contrast to the Russian co-productions that dominated cinema in the country until recently. The trailer's release comes at a time when Russian TV is showing a documentary lauding Moscow's annexation of Crimea. Reaction to the new Ukraine drama has been mixed, with some social media users complaining that it looks low-budget or banal. But others hail the fact that Ukraine is getting its own patriotic narrative out there. "This is exactly what we need to show, not stupid Russian propaganda!" writes one person on the Facebook page of the TVi listings magazine. Another user likes the trailer, but suggests the money should have gone to equip the National Guardsmen. "We can lionise them later," he says.
Use #NewsfromElsewhere to stay up-to-date with our reports via Twitter.