China: Spending cuts force officials into driving lessons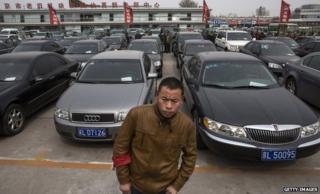 Chinese officials are rushing to take driving lessons after the government cut spending on chauffeur-driven cars, it's reported.
Many officials don't have driving licences because they've always been ferried to work by chauffeurs, but since the government targeted "wasteful spending" in late 2014, the privilege has been reserved only for senior officials. That's left many mid-level staff without a ride, and prompted them to seek out driving instructors, Xinhua news agency reports. There have been a few bumps in the road, though. Instructors tell Xinhua that some of the officials - many of whom are in their 50s - have failed their driving tests because they're so accustomed to taking charge that they refuse to obey the rules of the road. "Some of them are too used to doing things their own way and they often ignore my instructions," says Song Bo, who gives lessons in the northeast province of Jilin. "It is painful to have them as students."
That's an experience familiar to one official, who tells the agency she has taken the test 10 times and had three different instructors. "The more I fail, the less patient I become," she says. Social media users have been following the news with amusement. While one person commenting on the Sina Weibo social network hails the driving tests as "one of the places where officials cannot abuse their power", others are more sarcastic. "You better learn quickly," one user warns. "Otherwise you'll be taking the bus to work."
Next story: Big freeze hits Canada meat supplies
Use #NewsfromElsewhere to stay up-to-date with our reports via Twitter.