Vietnam: Internet users save noodle stall's comical sign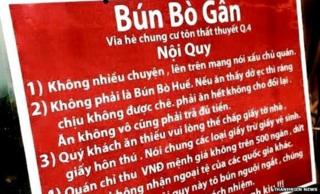 A Vietnamese noodle stall has had a comical signboard returned by red-faced council officials after it went viral on social media.
The Bun Bo Gan cafe in Ho Chi Minh City drummed up considerable trade as much from its notice of quirky "house rules" as for its beef noodle soup, with customers spilling out onto the pavement outside. Among the rules were a ban on too much chit-chat or complaining about the food on the internet, "even if it tastes awful", and a generous offer to accept house title deeds and marriage certificates - "in fact any paper except toilet paper" - as collateral if customers run out of money, the Tuoi Tre newspaper reports. But while customers found it amusing, local authorities took a different view. Owner Nguyen Hoang Anh Dung says officials seized the sign without a word, later telling him it was "offensive" and causing traffic congestion because of all the people coming to see it.
But social media users were having none of that, and launched a vigorous campaign accusing the council of being a spoilsport when it should be tackling crime and bureaucracy. A contrite local council chief has now returned the sign, and told the paper that she will reprimand the overzealous officials who "acted hastily and failed to follow correct procedures". Vietnamese media report the cafe is booming again, with customers happy to queue for a seat beneath the now-famous sign.
Next story: 'Ice-cold Camembert' blamed for expenses claims
Use #NewsfromElsewhere to stay up-to-date with our reports via Twitter.