China: 'Good deed TV' receives lukewarm reaction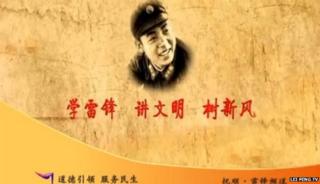 A new Chinese television channel is focusing on people's selfless acts, but it doesn't seem to be exciting viewers.
The Lei Feng channel, which broadcasts in the northeastern city of Fushan, takes its name from a young People's Liberation Army soldier who died in the 1960s, and has since been held up as a model of selflessness and modesty in Chinese government propaganda. The channel's manager says he wants local people to display those same qualities. "We want to see something about the brighter side of human nature, not darker issues such as murder or fire, so that we can feel better after watching," Shang Zeyou tells the official China Youth Daily. The channel belongs to the local state-owned broadcaster, and puts out about an hour of original programming per day.
But its offerings, which have included a report on volunteers asking people not to jaywalk and a programme on littering, aren't grabbing viewers' attention so far. While it started broadcasting in late March, few people have even heard of it, according to the paper. "Who would watch a local television channel?" says local resident Xiao Gao. "We're all watching the provincial channel." Another man agrees, saying he usually just watches soap operas on the national CCTV channel with his wife.
Next story: Chechnya seeks to displace Western toys
Use #NewsfromElsewhere to stay up-to-date with our reports via Twitter.