Egypt: Writer calls for protest against hijab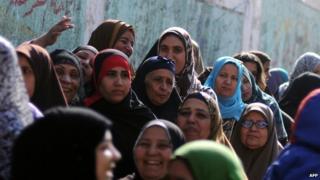 An Egyptian journalist has issued a controversial call for Muslim women in the country to take off their headscarves.
Cherif Choubachy says women should take part in a protest against the hijab in Cairo's Tahrir Square in May, the al-Yawm al-Sabi newspaper reports. He wants women to remove their headscarves while "guarded" by a circle of men, including himself. In a video posted on his Facebook page, Mr Choubachy says women face social pressure and are "looked down on" if they don't wear the hijab, adding that he thinks many wear it "out of fear". The headscarf is still a debated issue in Egypt, with clerics saying it's obligatory in Islam, while intellectuals argue it's actually a tradition rather than a rule.
His comments have been denounced by Egypt's former Grand Mufti Ali Gomaa, who says anyone who supports the call doesn't understand Egyptian society or history. Many social media users say women should be left alone to decide for themselves. "I'm a liberal and I'm still against this idea because the hijab is a question of personal freedom," says one man on Twitter. Another person wonders why people are getting worked up about it: "It's the same as other people who call for women to wear the hijab. They don't have the tools of repression needed to impose what they want." And one user wishes people would pay the same amount of attention to education and healthcare issues as they do to debates surrounding women's headscarves.
Next story: Eurovision doubt for Iceland over legal strike
Use #NewsfromElsewhere to stay up-to-date with our reports via Twitter.