Anzac Day: New Zealand cities enact WW1 trench battle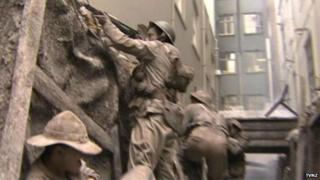 Streets in New Zealand cities are being dressed up as World War One trenches as part of events marking the centenary of one the conflict's bloodiest engagements.
In the replica trenches, actors play out scenes from a day in the life of New Zealand soldiers fighting in the 1915 Gallipoli Campaign, TVNZ reports. Passers-by can watch as the re-enactments are filmed in Auckland, Wellington and Christchurch in the week leading up to the Anzac Day remembrance holiday on 25 April. In a twist, everything on the "sets" is coloured black and white, as if bringing to life WW1-era footage. "We had some people come by who had family members in the war and they were quite moved by it," Kate Whittle of Sky TV told the New Zealand Herald about the event in Auckland, which closed off a city centre alleyway.
Anzac Day commemorates the deaths of New Zealand and Australian soldiers at Gallipoli, in modern-day Turkey, as well as in subsequent conflicts. The battle cost an estimated half-a-million lives overall, and was the first time Australia and New Zealand suffered mass casualties in war. The head of the Returned Services' Association veterans' welfare organisation, David Moger, says the re-enactments are aimed at keeping memories of the conflict alive. "A hundred years on we no longer have WW1 veterans with us to share their stories and experiences first-hand," he told TVNZ. "We hope Kiwis will join us at the trenches as we remember all those who've given everything for their country, and us."
Next story: Uzbeks sceptical on '100 year bonus'
Use #NewsfromElsewhere to stay up-to-date with our reports via Twitter.