China: Lazy officials sent to military-style retraining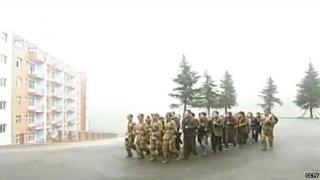 A county in China is ordering officials to take classes in military-style camps as punishment for poor performance at work.
Officials in Qianxi county, in southern Guizhou province, can be made to attend the "boot camps" for up to seven days for disobeying superiors' orders, poor work performance and slacking, according to state China Central Television. The camps are part of a wider remedial training scheme, with less serious offenders going to mere "improvement classes". So far, 1,668 county officials have been ordered to undergo some kind of retraining. One of them, Nie Qingchan, who was punished for "constant failure to focus at work", says she found it useful. "I think the retraining is needed to change the mentality by officials that they can still get their paycheques without actually working," she tells the broadcaster.
The Chinese government has vowed to crack down on officials slacking at their desks, but opinions are divided about whether Qianxi's tough approach will really work. "The camps can improve officials' physical health and daily routine, but they have nothing to do with helping their work performance," a commentary on the Red News website says. And some social media users advocate an even more drastic approach. "The best remedy is simply to fire them," user Sheng Pingwang Datou writes on the microblogging website Weibo.
Next story: NZ streets turned into WW1 trenches
Use #NewsfromElsewhere to stay up-to-date with our reports via Twitter.