China: Navy joins social media boom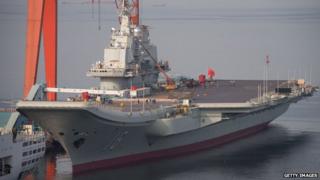 China's navy has become the first branch of the country's armed forces to set up a presence in the country's thriving micro-blogging community it's been reported.
The People's Liberation Army Navy has set up shop on the people.com.cn website and has already gained 143,000 followers despite only having posted 11 times. According to officials, the navy's foray into social media is intended to publicise the armed forces, allow the public to communicate with the services and to provide transparency, the state-run China Daily newspaper says. The site will also be used to "correct and disprove inaccurate statements or rumours about the navy", the paper says, and it's thought that the micro-blog is part of the response to President Xi Jinping's call last year to expand the state's presence in social media platforms.
One of the blog's few posts so far invites civilians to pay visits to naval vessels in Shanghai, Qingdao and Xiamen to celebrate the 66th anniversary of the founding of the PLA Navy. Six is a lucky number in China, and a 66th anniversary is doubly fortunate, a BBC China analyst says. While 144,000 of China's estimated 250m microblog users have found the new page, one of the repeated questions around social media pages is "Where is it?" after a lengthy piece in the People's Daily neglected to give the site's internet address.
Next story: Duck protest against waterfront development
Use #NewsfromElsewhere to stay up-to-date with our reports via Twitter.