Iceland: Tourist board launches 'human search engine'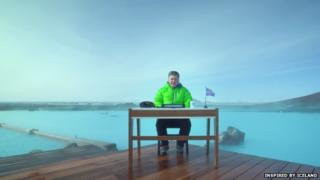 If you've got a question about Iceland which the internet can't answer, a new "human search engine" might be able to help.
The country's tourism agency has launched a project called Ask Gudmundur in order to resolve any Iceland-related queries, the Morgunbladid newspaper reports. It's run by seven people - all called Gudmundur or the female equivalent Gudmunda - who hail from each of Iceland's seven regions. "More than 98% of the world's Gudmundur population lives in Iceland," the tourist board's tongue-in-cheek website reads. "This May, we have asked some of our finest Gudmundurs to help you answer your most pressing questions about Iceland."
Potential visitors are encouraged to send their queries via social media, and await a response from an all-knowing Gudmundur. While most people have been asking for dining suggestions or advice about what to see, others have bigger questions on their minds. "I visited Iceland once and I loved it. Do you think I should leave Brazil and move to Iceland?" one Facebook user asks. But being a human search engine isn't always easy. When asked about Reykjavik's average temperature in May, Gudmundur from the North confessed: "Even though it could be considered a national hobby to talk about the weather, I must admit that I had to ask a friend to get this information." He came through however, advising that although it's around 8C at the end of May, "it feels way warmer".
Next story: Saudi security concerns over toy planes
Use #NewsfromElsewhere to stay up-to-date with our reports via Twitter.