Saudi Arabia: Toy planes spark security concerns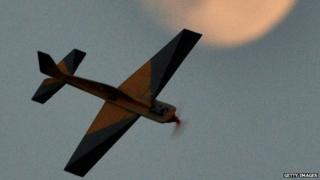 Saudi Arabia and other Gulf states are clamping down on the import of children's toy planes over security concerns, it's reported.
Nervous governments, worried about the threat of aerial drones, fear that model aircraft fitted with cameras could be used to photograph sensitive locations and military bases, the Arab News website reports. While there's currently no ban in place, Saudi Customs told Arab News that strict controls require people to obtain a permit from the interior ministry if they want to bring flying model aircraft into the country. Passengers arriving into the kingdom have had to surrender metal toys for several days so that they can be properly inspected, the website reports. In Bahrain, officials say their measures are "precautionary", and they have yet to seize any items. One security expert praised the measures, saying controls on "war toys" are needed to neutralise threats from terrorist groups who want to disrupt security in the Gulf.
The new measures over flying toys come during a period of increased tension in the region, with ongoing conflicts in Syria, Iraq and Yemen. This week, residents in Dubai were told not to take photographs of aircraft and airport buildings without permission, "to ensure the safety and security of our passengers, employees and stakeholders," The National newspaper reported. Plane enthusiasts have reacted with dismay, claiming that authorities don't understand their hobby.
Next story: South Korea students hold sleeping contest
Use #NewsfromElsewhere to stay up-to-date with our reports via Twitter.