New Zealand: Cockle haul costs woman her luxury car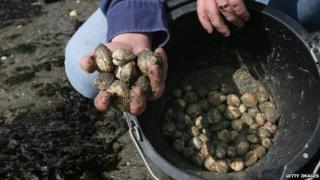 Picking too many cockles has cost a New Zealand woman her luxury car, it's reported.
A judge ordered Auckland resident Xiaojuan Wei to forfeit her NZ$128,000 (US $95,000; £63,000) Audi after she pleaded guilty to poaching shellfish, the New Zealand Herald reports. Ms Wei was found with a sack of 1,162 cockles after an outing to a local beach last June, way above the local quota of 50 per day. New Zealand strictly controls cockle harvesting in order to maintain a stable population - there is even a government hotline for people to report suspected poaching. Seafood fans are allowed to collect another 50 shellfish of different species from beaches in the region, but Ms Wei went overboard there too - she had 183 whelks and there were 960 oysters in her car.
"Shellfish form a vital part of the sea environment and the food chain," says Mike Simmons from the Ministry of Primary Industries. "The depletion of shellfish by gatherers who flout the rules has lasting effects." While Ms Wei's cockle haul was large, it was nothing compared to an incident in April when officials in the Canterbury region busted a group of people with nine large sacks of cockles after a hotline tip-off. Four ministry officials had the unenviable task of counting the sacks' contents, according to regional compliance manager Peter Hyde. "It took the four of them over an hour to count what turned out to be 10,500 cockles," he said.
Next story: Migrant football team wins promotion in Italy
Use #NewsfromElsewhere to stay up-to-date with our reports via Twitter.