Turkey: Selfie-taking Ottoman prince statue vandalised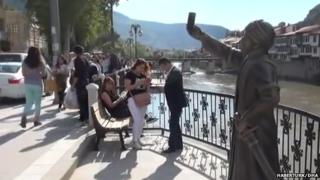 A statue of a selfie-taking Ottoman prince has been vandalised just hours after being erected in a Turkish city.
The life-size statue was unveiled in the northern city of Amasya on Saturday, but only a day later it was already missing a crucial gadget for any selfie-taker - a mobile phone. The prince is still standing, grasping the remnants of his phone in one hand, and his sword in the other. Tourists have been flocking to Amasya's riverside to have their picture taken with the statue - or to snap a selfie of their own.
But some local residents are less keen, describing it as a "ridiculous" sight which disrespects the town's illustrious history. During the Ottoman era, Amasya played an important role in preparing princes to become sultans. They were sent to govern the city as part of their training for later ruling over the entire empire. "Everybody knows that mobile phones did not exist during that time period. It is disrespectful to our ancestors to portray a prince in that way," one local tells Today's Zaman. "Whoever broke that part of the statue should have just removed it completely."
Officials say the figure doesn't represent any particular prince, and its only aim is to draw attention. "There is nothing there that offends or belittles our princes," Mayor Cafer Ozdemir says, adding that there's nothing wrong with giving the statue a modern twist.
Next story: Tourist thefts silence Chinese wind chime festival
Use #NewsfromElsewhere to stay up-to-date with our reports via Twitter.