Denmark: Traffic wardens given tour guide makeover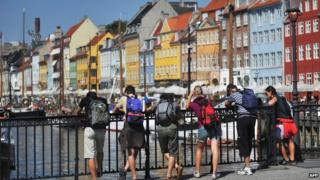 Traffic wardens aren't often a welcome sight, but Copenhagen is trying to change that by giving them a new role - helping tourists.
Armed with iPads, "ask me" signs and their considerable knowledge of the city, 11 traffic wardens have been selected to take part in a new trial, the Copenhagen Post reports. Like a mobile tourist information centre, they've been told to offer advice on the city's attractions "or just to help out lost tourists", the council's Thomas Jakobsen says. The trial will run until August, and if it's popular the scheme will be expanded in 2016.
While officials are hoping it will lead to a better experience for visitors, it could also give a boost to the wardens' public image. "The attendants are a group of professionals who are not always greeted with smiles," says Jes Oksnebjerg from the council's parking department. "So when there is a chance for a different type of citizen contact, employees respond positively." But wardens will have to multitask, because they're expected to continue handing out parking fines alongside the tourist advice.
Next story: Volunteers guide 20,000 frogs across roads
Use #NewsfromElsewhere to stay up-to-date with our reports via Twitter.