Iran: Cartoon competition 'exposes' Islamic State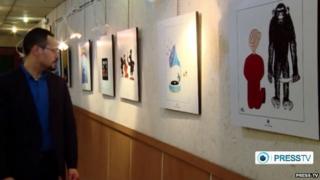 Iran is hosting an international cartoon and caricature contest intended to mock and expose Islamic State.
The event, organised by Iran's "House of Cartoons", will highlight the crimes committed by the extremist group, Tehran's Press TV reports. "In order to reveal the true nature of IS we decided to hold this contest and have people submit their cartoons or caricatures. IS tries to associate itself with Islam, but its essence has no idea about Islam", Massoud Shoja'ei Tabatabai, the head of House of Cartoons, told the Iranian TV. Some of the cartoons shown by the TV portray Western countries, especially the US, as supporters of the Islamic State, and there are plans to exhibit the best entries in Iraq, Syria and Lebanon.
Taking part in the competition hasn't been easy for the people in countries where IS is operating, Press TV says, with those in Syria and Iraq being scared to participate because they fear they may be tracked down for reprisals. According to the Tehran Times, the deputy head of competition, Mohammad Habibi, said that "some of the foreign cartoonists are attending the contest using assumed names for security reasons". 
Iranian media reports said that 280 works have been selected from 800 entries and artists from countries including the UK, Peru, Italy, Cuba, France and Australia. The short-listed cartoons have been put on display in an exhibition in Tehran, and the winners will be announced at the end of May.
Next story: New Zealand Post rolls out electric trikes
Use #NewsfromElsewhere to stay up-to-date with our reports via Twitter.