Russia: Investigation over Cossack group's 'currency'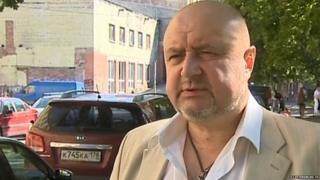 Russian prosecutors are investigating a group in St Petersburg which has printed its own banknotes featuring President Vladimir Putin's face.
The group, which calls itself the Cossack Orthodox Union Irbis, has reportedly been using the unsanctioned currency for the past week. Several different denominations are available: the smallest - 1 grosh - is equivalent to 100 roubles ($1.50; £1), according to a statement on the prosecutor's office website. It says that more than two million of the notes are already in circulation.
While some notes feature President Putin, others are graced by the group's chief, Andrei Polyakov, who says the currency has a host of uses locally. "There is less money now, so we decided that we would help Cossacks this way," he tells the Fontanka website. "Members of the community will be able to pay using the banknotes for education at the Cossack cadet college, repair home appliances at our farmstead, and buy food products produced there."
Modern-day Cossacks in Russia are nationalist and pro-Kremlin, taking inspiration from the horsemen who used to serve the tsar. Earlier this year, Mr Polyakov's group unveiled a bust of President Putin fashioned in the style of a Roman emperor.
Mr Polyakov says he won't argue if the authorities tell him to burn the notes, but he's hoping his currency will be allowed to remain in use so that it can spread to parts of the country with large Cossack populations. More curiously, he plans to introduce it to the US state of Alaska when, as he puts it, it is "returned to Russia".
Next story: Reindeer migration 'slow TV' event planned
Use #NewsfromElsewhere to stay up-to-date with our reports via Twitter.