Poland: Major study of Egyptian mummies launched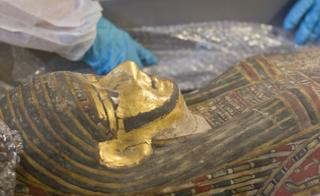 Polish scientists are carrying out what they say is the world's largest study of Egyptian mummies in the hope of finding out more about the diseases that killed them.
Dr Marzena Ozarek-Szilke of the Warsaw Mummy Project says there have been X-ray studies of mummies conducted since the 1970s, but none in such a "comprehensive and interdisciplinary manner". The project is being run in conjunction with the National Museum in Warsaw, which says that a total of 42 mummies are being lent to the team, including some animals.
Dr Ozarek-Szilke says the study is not merely an exercise in intellectual curiosity, emphasising that the Affidea International Oncology Center in the suburb of Otwock will scan the mummies for any "tangible benefits" in understanding the development of diseases that affect us today, in particular cancer. The next stage will involve Italy's military police, the Carabinieri, whose expertise in fingerprinting mummified bodies will help to determine whether the deceased were manual workers, and even whether they were right- or left-handed.
The project has attracted considerable attention in the Polish media, with TV coverage lingering on the journey of the sarcophagi to the Otwock institute under armed guard. Although the entire study will take three years, Dr Ozarek-Szilke says the first results should appear "within months".
Next story: Pastafarian marriage ceremonies approved in New Zealand
Use #NewsfromElsewhere to stay up-to-date with our reports via Twitter.