Credit blacklist for Shanghai's disloyal children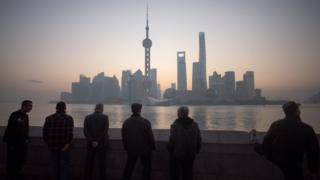 Residents of the Chinese city of Shanghai who don't visit their elderly parents could find themselves on a credit blacklist under new regulations, it's reported.
Coming into effect in May, the Regulations on the Protection of the Rights and Interests of the Elderly in Shanghai say that family members who live apart from elderly parents have a responsibility to visit them and make sure they're being cared for, state-run China Daily newspaper reports.
Parents who think their children aren't showing sufficient filial piety - a major aspect of Confucian tradition - can take them to court. Punishments include a black mark on their credit record, making it more difficult to open a bank account, or even register for a library card, law office deputy director Luo Peixin says.
Official statistics show that 30% of Shanghai's population is over the age of 60, twice the national average. The legacy of China's one-child policy, which came into force in the late 1970s, means today's elderly people have fewer relatives to look after them than previous generations. "More and more people reaching old age are parents who have a single child, so it becomes even more important for the child to regularly check on the parents' situation," one resident tells China Daily.
The regulation hasn't gone down well among Chinese social media users. Posting on Weibo, one person says: "My father is not kind, why should I be required to be filial?"; while another writes: "I don't support this, not all child-parent relationships are so close." Some are more enthusiastic, with one person saying "busy people should take time to see their parents". Another wonders why the regulation is needed at all: "Going home and seeing your parents, this kind of thing needs a legal requirement?"
Next story: Russia's 'patriotic' Putin cafe divides opinion
Use #NewsfromElsewhere to stay up-to-date with our reports via Twitter.