China: Outcry over pepper spray ban on Nanjing metro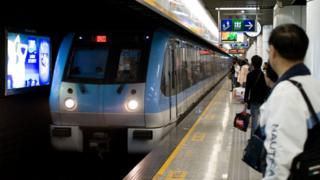 There has been an outcry in China after one city banned metro passengers from carrying self-defence products often used by women.
Pepper spray and rape alarms are now forbidden items on the underground system in Nanjing, in eastern Jiangsu province, the local daily Modern Express reports. It quotes a metro security official as saying that "these things can be used for attack as well as defence" and it is impossible to tell each passenger's intentions.
The deputy director of the Nanjing Public Security Bureau Metro Branch, Jiang Shida, says such items can disturb public order and cause panic if improperly used. "Crying for help is the most effective thing to do," he says, according to the report.
Many social media users don't think that will work, and say the metro's decision leaves women vulnerable to attack. "But where are the security personnel in the carriages? If you cry for help, who will help you?" wonders one netizen. "You might want to cry for help, but people are indifferent, they are afraid that the police will say they are responsible," says another.
The ban comes only days after an intense debate erupted on social media, prompted by an influential user's remarks that carrying things like pepper spray for self-defence was "not so useful". In a post that received thousands of comments, Gong Yan said that using pepper spray in confined spaces is as dangerous to the victim as it is to the perpetrator.
Women's safety has been a major talking point in China after a video emerged last week apparently showing a woman being assaulted in full view of bystanders.
Next story: Japanese region entices tourists with romance novels
Use #NewsfromElsewhere to stay up-to-date with our reports via Twitter.