Seoul ground inspections find potential sinkholes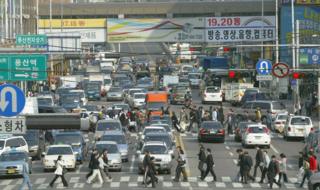 More than 100 potential sinkholes have been detected beneath the streets of South Korea's capital, Seoul, it's reported.
The city government has been conducting ground inspections after a sinkhole opened up beneath two pedestrians on a pavement near Yongsan station last year. Its latest survey covered 48km (30 miles) of Seoul's arterial roads and found 105 underground cavities which could become sinkholes, the Korea Herald reports.
The authorities say the sites are around ageing sewers, and that 61 identified as being in need of urgent repair will be fixed by the end of April. Those that don't currently pose a risk will be studied in the hope of working out what causes sinkholes to form, the paper says.
The four-month-long inspection used ground penetrating radar to locate weaknesses, then workers drilled through the surface to determine the size of each cavity. The inspection teams have their work cut out - another 246km of highway will be surveyed this year, and the process will be repeated every three years, the paper says.
In 2014, the city government said that mistakes made during the construction of a subway line were to blame for the emergence of seven hollows beneath the southern Songpa-gu district. An investigation found that the construction company had failed to adequately reinforce the ground during their excavations.
Next story: NZ drivers offered chance to 'feel like a prime minister'
Use #NewsfromElsewhere to stay up-to-date with our reports via Twitter.