Australians angered by TV advert during Last Post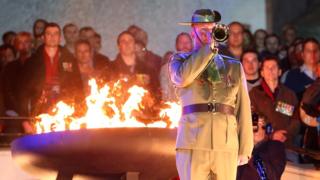 An Australian TV channel has apologised after causing outrage by interrupting the playing of the Last Post for an advert.
Channel 7 made the faux pas while broadcasting an Anzac Day commemoration ahead of an Australian Rules football match in Melbourne on Sunday, The Age newspaper reports. Soon after a military bugler began the Last Post - a call used to remember fallen servicemen and women - the TV station cut to a trailer for a cookery show, enraging many viewers.
Anzac Day is one of the country's most important national occasions. Named in honour of the Australian and New Zealand Army Corps (Anzac), which sustained heavy losses at Gallipoli during World War One, it honours members of both countries' armed forces who've served and died in all subsequent conflicts.
Social media users were damning in their response to the Channel 7 advert break. "Utterly disrespectful & disgraceful", "What idiots" and "What the hell" were some of the many furious comments on Twitter. "As bad as it gets as far as I'm concerned - contemptible stuff," one user said, while another compared the channel's actions to "yelling something out loud during a minute silence".
Channel 7 responded to the outcry by issuing an apology on Twitter and on air after the broadcast of the game. "We didn't show the Last Post in full. It is not something we are proud of," presenter Hamish McLachlan said, pointing out that it had happened during an edited recording of the ceremony. "We are very disappointed with the way it went to air... and we hope it doesn't happen again."
Next story: Beijing ambulances to get taxi-style meters
Use #NewsfromElsewhere to stay up-to-date with our reports via Twitter.