Mixed reaction to S Korea's last-minute long weekend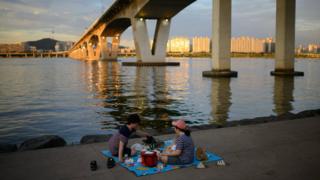 South Korea's government has approved a "temporary holiday" next week to give the country a long weekend, but the last-minute decision hasn't pleased everybody.
The holiday will fall on Friday 6 May, meaning South Koreans will get a four-day weekend after celebrating Children's Day the day before, the Korea Times reports. It's intended to coax citizens to go out and spend money in an effort to stimulate the country's economy, and highway tolls and entry fees for tourist sites will be waived. A previous temporary holiday in August last year brought in 1.31 trillion won ($1.1bn; £790m) according to the country's Chamber of Commerce.
One travel agent gleefully tells the JoongAng Daily that he took 500 new bookings in a single day after news that the government was considering the extra holiday got out - two to three times the normal number. Elsewhere, retailers say they're ordering extra goods to cater for an anticipated increase in picnics and family outings.
But while some welcome the long weekend, others aren't so keen. Workers at small and medium size businesses are unlikely to get the day off, JoongAng Daily says, and it's causing childcare headaches for some parents. One woman says that both she and her husband will have to work, and their daughter's day care centre closes on public holidays. Another mother tells the paper: "I wish the government had decided on this earlier on."
Self-employed Seoul restaurant owner Kim Kyung-sook isn't looking forward to it either, and predicts lots of empty tables as customers head out of the city. "I expect there to be no customers from as early as Wednesday night next week," he laments.
Next story: Japan relaxes mascot rules for earthquake fundraising
Use #NewsfromElsewhere to stay up-to-date with our reports via Twitter.