Horse racing rules found on ancient tablet in Turkey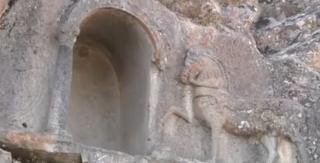 A 2,000-year-old stone tablet located in central Turkey is inscribed with the rules of ancient horse racing, it's reported.
The tablet forms part of the Lukuyanus monument, which was built for a Roman jockey in what is now Turkey's Konya province, the Daily Sabah news website reports.
Analysis of the writing on the tablet, which is in the ruins of an ancient stadium, suggests that there was a keen sense of fairness in the sport, one historian tells Anadolu Agency. "It says that if a horse comes in first place in a race it cannot participate in other races," says Prof Hasan Bahar from Selcuk University.
A winning owner was also forbidden from entering any other horses into an event's subsequent races, apparently to give others a chance at glory, he says. "This was a beautiful rule, showing that unlike races in the modern world, races back then were based on gentlemanly conduct," he's quoted as saying.
Prof Bahar tells Anadolu that while other tablets make reference to horse racing, this one is the oldest he knows of describing the rules of the sport.
Next story: Traffic trouble in Delhi as taxi protest blocks roads
Use #NewsfromElsewhere to stay up-to-date with our reports via Twitter.