Finland to free up strict drinking laws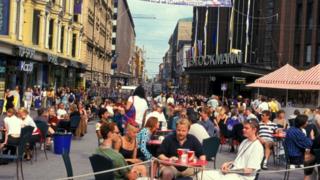 Finland's centre-right government has agreed to free up the country's notoriously strict rules on the sale and advertising of alcohol, including the right to buy a round of drinks in most establishments.
The three parties which form the governing bloc plan to reform the Alcohol Act in a way that the National Coalition Party calls "less patronising, more sense", Helsingin Sanomat newspaper reports. The party's deputy chairwoman, Outi Makela, published the list of amendments on her blog, and they should become law early next year.
The most eye-catching changes affect bars and restaurants. Drinkers will be able to buy more than one portion of alcohol at a time, order drinks to take home, and pay with Finnish credit cards. At the moment, only credit cards issued abroad can be used. Bars and clubs will also be able to stay open until 0400 without a special permit, and a ban on advertising happy hours will be lifted.
Additionally, the Alko chain of state-owned off-licences will lose its monopoly on selling drinks stronger that 4.7% alcohol per volume, as the limit for corner shops will be raised to 5.5%. Alko itself will be able to stay open an extra hour until 2100 on weekdays.
Further afield, music festivals can host beer tents outside roped-off areas, microbreweries will be able to sell drinks stronger that 5.5% on site, and alcohol sales can be freely advertised in print and online. Fans of real ale will rejoice at the ban on using raw materials in homebrew, and the minimum age for drinking will drop from 18 to 16, under appropriate supervision.
Social media users have largely welcomed the reform as a move away from the "nanny state" towards a more "European drinking culture", although some defend the earlier restrictions as a safeguard against teenage drinking and family debt at a time of recession. But others complain that the reform is not enough, especially when the vodka-filled shops of Estonia are only a short ferry ride away.
Next story: Low paid teacher in Cambodia 'set up armed gang'
Use #NewsfromElsewhere to stay up-to-date with our reports via Twitter.