Canadian police ready for 'bear season'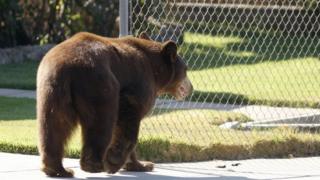 Police in one Canadian city are setting up a "triage" system to prioritise their response to bear sightings, it's been reported.
Such are the numbers of black bears seen in the Ontario city of Sudbury, the local force want to be able to direct resources toward the most dangerous scenarios, national broadcaster CBC reports. With the "bear season" starting, where the animals have a habit of coming into town in search for food, the emergency services have their work cut out dealing with calls from concerned members of the public. In 2015, police had to deal with 1,700 incidents due to a poor crop of berries in the wild, forcing bears closer to towns to find food, the Sudbury.com news website says.
An aggressive, trapped or injured bear would be considered a higher risk than a bear rummaging through a compost bin, Inspector John Somerset tells CBC. Police would also respond quicker to animals entering school grounds or "stalking" people, he said. While it's natural for concerned citizens to call the 911 emergency number, police would much rather report minor incidents to a newly-created non-emergency line.
Perhaps typical of bear-related incidents is that of one Sudbury-based beekeeper, who found all six of his hives destroyed by a hungry bear last week. David Dubois is one of many who blames pesticide spraying in local forests for bears coming into human communities. Intended to promote the growth of conifers, some people say it damages blueberry plants and insect populations on which the black bears rely. "I'm angry - more at the aerial spraying that has made bears not be able to have any food in the bush. And they have to forego all their natural instincts and resort to coming in to an urban environment to feed themselves," Dubois told CBC.
The best precaution citizens can take is to ensure the animals aren't attracted to gardens, Inspector Somerset says. Blaming food, compost and household waste being left outside, he warns CBC that "people need to see what's attracting bears to their areas, and manage the attractants."
Next story: Russians could face jail for insulting national anthem
Use #NewsfromElsewhere to stay up-to-date with our reports via Twitter.