Russian paper adds warning to state TV listings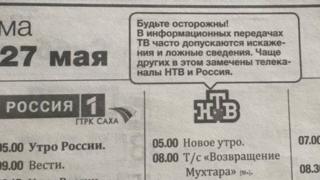 An independent regional newspaper in Russia has printed an unusual warning on its TV listings, after one channel broadcast a programme falsely accusing it of being in the pay of foreigners.
"Beware! News programmes on TV often permit themselves distortions and false information. This most frequently occurs on Rossiya and NTV," reads the warning that appeared in Yakutsk Vecherny, one of the most popular newspapers in Siberia's Yakutia region.
Rossiya 1 and NTV are two of Russia's biggest state-controlled channels. Earlier this year, NTV showed a programme accusing Yakutsk Vecherny and other independent regional media of serving the interests of Russia's enemies because they received loans from a US-based NGO.
Russia's press complaints council ruled this month that the programme was a "false denunciation" that had deliberately caused viewers to be misled.
A photo of the unconventional TV listing was posted on Facebook by a local reader and quickly became a social media hit, with many users giving it a big thumbs-up. "Bravo!", "Well done" and "At last, honest media" were among the comments.
The paper's director-general, Vyacheslav Levin, says they thought about printing warnings on the TV listings earlier, but held back until after the ruling by the press complaints council.
"Why did we decide to do this? It's clear - because of the numerous instances of falsehood and distortion," he tells the Govorit Moskva radio station, adding that he hopes similar warnings will appear in future editions of Yakutsk Vecherny.
Like their national counterparts, independent regional media in Russia have been coming under increased pressure in recent years. The last truly independent regional TV station, TV2 in the Siberian city of Tomsk, went off the air in 2015.
Next story: Backlash as Seoul plans longer 'cram school' hours
Use #NewsfromElsewhere to stay up-to-date with our reports via Twitter.