New Zealand Maori anger at 'offensive' shower curtains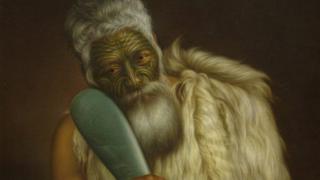 Maori representatives have criticised a US retailer for selling shower curtains which they say are offensive and insulting to their culture.
The curtains, pillows and duvet covers feature historical portraits of Maori leaders by 19th Century Czech-born artist Gottfried Lindauer, and were on sale on the Fine Art America website for around US$70 (£47), the New Zealand Herald reports. Another item shows British armed forces storming a Maori fort.
Ngahuia Te Awekotuku, an art historian who is also descended from some of the Lindauer subjects, tells Radio New Zealand that she feels Maori culture is being exploited, calling the appearance of Wimeru Kingi, leader of Maori forces in the First Taranaki War of 1860, on one of the products "profoundly insulting". "The arrogance of art producers in Western creators' commerce never fails to amaze me," she tells the radio.
There's been outrage in political circles, too. "It sucks. I mean if the guy wants to make money out of shower curtains, put his own ancestor on the shower curtain," Maori activist Hone Harawira, who heads the Mana Party, tells One News. "If his ancestors are boring or not that marketable, well that's his problem."
However, Maui Solomon, a lawyer representing the Maori peoples, says that because copyright had expired on the original artworks there's "nothing to stop the images being used in such an offensive way". A straw poll of readers by the New Zealand Herald finds a majority of the opinion that international designers can't be expected to know that using the portraits would offend.
Fine Art America is a portal which allows artists to upload their creations for sale as prints, mobile phone cases and household items, and the Lindauer paintings were probably uploaded by a third party. The website has now removed most of the items from sale, the Newshub website reports.
Next story: Russian police on 'bear watch' as woman gives birth
Use #NewsfromElsewhere to stay up-to-date with our reports via Twitter.