Tashkent 'blocks Soviet-era cars' during SCO summit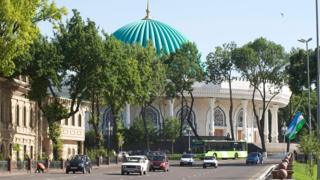 Uzbekistan's capital has reportedly issued a temporary ban on Soviet-era cars entering the city ahead of a major international summit.
People behind the wheel of old cars made by Lada, Volga and Moskvich have been stopped from passing police checkpoints into Tashkent, which is hosting a two-day gathering of the Shanghai Cooperation Organisation (SCO), according to the Uzmetronom.com news site. The order to keep out old-fashioned vehicles was given verbally by the mayor's office, the website says. Uzmetronom.com is a respected independent news service based in Tashkent, but blocked within Uzbekistan.
Banning the old cars is an unusual decision given that they're Russian-made, and Russia is a major participant in the SCO summit. But the website's report, signed by editor Sergey Yeshkov, describes the move as "window dressing" for foreigners who are visiting Uzbekistan for the first time. It suggests that the mayor's office wants summit guests to see only Uzbek-made cars or prestigious foreign vehicles on the roads.
It's not only the traffic that's being given a makeover, though. Some social media users say false price tags have been attached to foodstuffs to make them appear cheaper, something also seen in 2003 during a European Bank for Reconstruction and Development meeting in the city.
A huge security operation is in place for the summit, with Uzbekistan closing all its international borders on 15 June, as it has also taken to doing ahead of major national holidays. People in Tashkent have reported increased ID checks on the streets, and some commuters have given up trying to negotiate traffic restrictions, instead abandoning their cars and heading off on foot, the US-funded Radio Ozodlik reports.
Next story: Italy senators call for pizza-maker qualification
Use #NewsfromElsewhere to stay up-to-date with our reports via Twitter.