Balkans factory gives 'shoe of support' to Melania Trump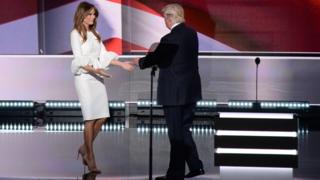 A footwear manufacturer in the Balkans has pledged to craft two pairs of shoes for Melania Trump as a long-distance show of support for her husband's presidential campaign.
Marinko Umicevic, technical director at the Bema factory in the Bosnian Serb Republic, wants to counter what he describes as a "dirty campaign" against the Trumps in the US election battle, the local Nezavisne Novine site reports.
Mrs Trump was born in Slovenia, which declared independence from Yugoslavia in 1991, and she speaks Serbian. She faced criticism over her speech at July's Republican National Convention, and recently rejected suggestions that she violated US visa rules in the 1990s.
With an eye on campaign practicality, one pair of shoes will have comfy memory foam insoles so that Mrs Trump can "walk across America", while the second will be leather high heels designed for a "victorious walk into the White House", the factory announced. Mr Umicevic is himself seeking office in forthcoming local polls, and says he knows from experience that you can't win an election unless you've worn out at least one pair of shoes on the campaign trail.
The footwear boss hopes that his gift will remind the potential first lady of home. "These shoes are from the Balkans, where she grew up," he tells the Blic tabloid, saying he hopes Mrs Trump will "imbue US politics with a bit of Balkan mentality, and bring kindness and soul to it". He adds that the "White House shoes" will - appropriately - be white, but the campaign pair will be in pastel shades.
The Balkan Insight news service says that many Serbs would prefer a Trump victory over Hillary Clinton in part because of President Bill Clinton's military intervention over Kosovo in the 1990s.
Next story: New Zealand gets 'ATM for mood deposits'
Use #NewsfromElsewhere to stay up-to-date with our reports via Twitter.