Austria road works unearth mammoth discovery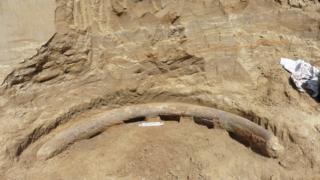 Scientists have uncovered two mammoth tusks believed to be a million years old at a construction site in north-east Austria, in what experts are calling a "sensational" find.
Geologists mapping the area near Bullendorf found both tusks from the prehistoric creature, each measuring 2.5m (8ft) in length, and some of its vertebrae, the Kronen Zeitung website reports. Despite their age, the remains are in remarkably good condition. "Finds of this quality are very rare," says palaeontologist Dr Oleg Mandic from Vienna's Natural History Museum. "The 2.5m-long tusks in particular are a rarity."
The museum says the geological conditions and the shape of the tusks suggest it's unlikely to have been an "ordinary" woolly mammoth, which was widespread in the region during the late Ice Age, but rather a much older species.
Experts covered the enormous tusks in plaster "bandages" in order to protect them during transit to the museum, and must now try to preserve them before any analysis can take place. "Above all, we have to prevent the bones from drying out, otherwise they quickly become fragile," says Dr Mandic. The team are hoping to unearth more finds to aid their research.
Next story: Dubai ruler's spot check finds empty desks
Use #NewsfromElsewhere to stay up-to-date with our reports via Twitter.