Police rations gripe costs Russian officer his job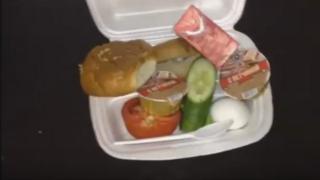 A Russian police officer has been forced to resign after posting a video complaining about the food he was given while on a duty at a major international event, local media have reported.
Posted anonymously, the video shows a man unpacking the rations he says were given to police to keep them going during a 12-hour shift at the Eastern Economic Forum, held last week in Russia's Far East and attended by President Vladimir Putin.
Amid giggles, expletives and ironic circus cries of "alley oop!" and "ta-dum!", he reveals a squashed roll, a mini carton of fruit juice, two small tubs of meat spread, half a tomato, a chunk of cucumber, one boiled egg and a slice of bread. "I would spend more on 100g of food for my cat," the man says, adding that he hopes the video goes viral in Russia to force the Interior Ministry to take action. It's been shared on several YouTube channels, with one version garnering more than 100,000 views.
His video caught the attention of the media both in the Far East and in Moscow, but it appears to have ended badly for the officer. According to local website Vl.ru, the Interior Ministry's internal investigations unit tracked him down to the town of Ussuriysk near Vladivostok and forced him to resign.
The case was seized upon by opposition leader Alexei Navalny, who wrote on his popular blog: "They fed him like a dog and sacked him like a dog." Opinions were more mixed among hundreds of readers' comments on Vl.ru, though. Some said the officer had no right to complain because the police are paid well enough to buy their own food. But there was also widespread sympathy for someone who stood up to the authorities. "Respect and kudos to this brave policeman," said one reader, while another wrote: "They should have fed government ministers with this."
Next story: Iceland goose hunt turns up 1,000-year-old sword
Use #NewsfromElsewhere to stay up-to-date with our reports via Twitter.