Minorities feel brunt of Dutch police spot-checks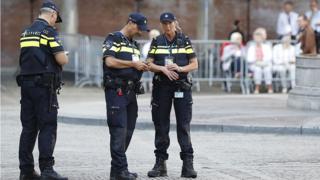 A study says more than half of all people stopped in roadside checks by the Dutch police have ethnic minority backgrounds, fuelling a public row about alleged ethnic profiling.
The Politie en Wetenschap (Police and Science Research) study found officers do not consciously target suspects based on their appearance, but are prone to what researcher Wouter Landman calls "stereotypes of the average criminal" - among them people of Caribbean, Moroccan, East European or Romany origin, the NOS public broadcaster reports.
Dutch police have extensive powers to 'stop and search' people if they break the law, or behave in a suspicious or unusual manner. The study, part of an independent programme funded by the justice ministry, focused on times when police had to rely on their "intuition and experience" in choosing who to stop over a six-month period. It says that 70% of cases related to actual offences and the rest to suspicious or unusual behaviour, and notes the officers' suspicions were unfounded 40% of the time - although it adds that they acted within their authority in the "vast majority of cases".
Mr Landman told NOS that "officers often come across as aggressive, because they don't explain why people are being stopped", which in turn leads to hostility towards the police in a "vicious circle... that risks undermining trust between ethnic minorities and the police". Many people from ethnic backgrounds would agree, prominent among them rapper Typhoon and Netherlands national football team goalkeer Kenneth Vermeer, who both say police pulled them over this year because they were driving expensive cars.
Acting police chief Ruud Bik dismisses suggestions that his officers are inherently prejudiced as "absolute nonsense", but acknowledges that there is a problem with profiling, which "undermines the confidence of ethnic minorities in the police". He told NOS the priority is "to raise our professional standards, because these are not isolated incidents. We need to deal with it".
Ethnic profiling has been a hot political issue, especially since the Typhoon and Vermeer incidents. A poll in June showed 64% of respondents back profiling "in the fight against crime", but 32% deem it a "form of racism".
Next story: Drugs haul found on Copenhagen Opera House roof
Use #NewsfromElsewhere to stay up-to-date with our reports via Twitter.